The real Milly Dog, who is the main character of the book 'Between Mountain and Sea, A Dog's Adventure in Coigach and Assynt'  , is a very sweet-natured Lollie (I have made that name for her mixed breed up as a dog who is a lab crossed with a collie).

I got her from a croft on Skye (there is a longer story there..) when I was ranger there and our first walk together involved a wee sit down to watch an otter. She was a 4.5 month old puppy and she just sat beside me on a rock looking and sniffing the air. That was the dog for me.
She is a sensitive soul and clever as they come, particularly when it comes to words – she knows a lot! She is a greedy girl though and many of the words she knows relate to food! For example, she responds to the words, 'allotment', 'hens' and 'egg' because often she gets an egg from the hens…  She really likes her food. Luckily for her, she gets a lot of exercise and has a high metabolism!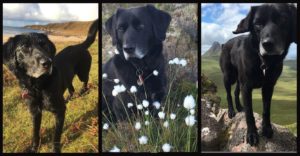 Milly and I are incredibly close and in tune. We can read each other very well and it is a very special relationship. I think aside from Milly being very astute, it is because we have spent so much time together. She is very rarely left alone. She comes to work with me, to the pub and cafes, (thankfully there are lots of dog friendly places in our wee village), she even comes with me if I nip to the shop.
Milly has 'cured' a fear of dogs in several children with her gentle nature and I signed her up to be an official Therapet with Canine Concerns a couple of years ago having seen many times the positive effect of her presence on people. She has visited schools and care homes to say hello. She doesn't only seem to win over children, adults who as they say, 'are not normally dog people' often find her an exception.
Unfortunately, she has her weak points which are not her fault at all. Milly is epileptic and has fits a few times a year. And, in early 2019 and 2020 she had two major surgeries on one of her legs after tearing her cruciate ligament. I think these trials of her life (and some of my own) have brought us even closer together. It is remarkable to be so connected with another living thing, especially another species. My degree is in Animal Behaviour and love studying her behaviour and trying to understand her.
So there you have it, a mountain loving, intelligent Lollie dog, my best friend, Milly. The book is dedicated to her, of course.
For more information about the book and how I made it, you can read this blog post.
To see more of Milly, you can find her on my Instagram Account – @highlander_and_the_dog