My encouraging and thoughtful brother bought and purchased this website for me for my birthday… six months ago. So you see I've been putting this off for a while. With excuses of lack of time and the will to sit in front of the computer during the summer, now with the wind-assisted rain hammering my window, comes my first ever blog.
I'm not sure how I feel about it. Exposed and scared? Definitely those things but also inspired to have a voice and, as one of life's recorders, it will be a nice record for me if nothing else.
And so, from autumnal wind to summer sailing…
Sailing to St. Kilda
When I sailed with the Dutch tall ship, the Wylde Swan, two years ago in May it brought everything I love together; good people, the sea, good light, islands, wildlife and drawing.
I have lived in the Highlands all my life, punctuated with travels and short work stints in exotic lands. When I travel, I write and draw as though it is an addiction. Being on the Wylde Swan, was as inspired as I have ever been with travelling.
I think there is something extra special about travelling on your doorstep, although I'm sure some would argue that St. Kilda is not on anyone's doorstep being 40 miles from the nearest inhabited island!
I walked from my house, straight on to the ship leaving all the responsibilities of my busy life behind for four days.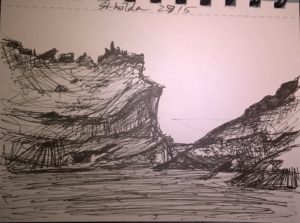 Sailing involves a lot of action at times and a lot of looking in between so during the pauses between helping to hoist sails and tie them up again, I drew and drew. The landscape framed by the ropes and shapes of our ship helped me hone in on the vast landscape.
I was very lucky. Often not able to be reached at all, we had a whole day on St. Kilda seeing sheep and birds such as this fulmar. 
I swam from the main island Hirta to the boat and I will never forget being up the rigging as we pulled out of the bay and continued on our journey.
And it didn't end there because our next stop was the equally enchanting Shiants. I've visited these islands before but never landed. Adam Nicolson writes about his islands in 'Sea Room' and his latest book about seabirds 'The Seabirds Cry' is a natural subject for him because the colonies on these small islands are spectacular. This is an excellent book by the way.
I sat and listened and watched puffins as I have never done before.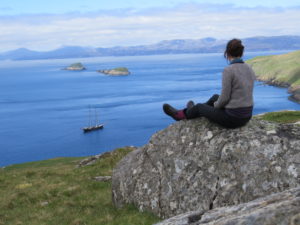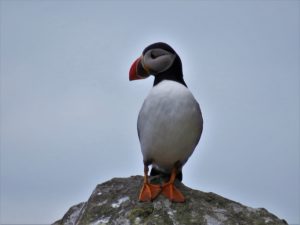 It's funny how a few days such as this can feed you for years and as October begins, more wintry than we would like in the north of Scotland, I dream of a precious few summer days on board a sailing ship.